An Interview with CMO Megan Climer
Learn how Chief Marketing Officer Megan Climer transformed the Tressler brand and her advice to business owners considering a brand refresh.
A new role brings new opportunities
When Megan Climer joined Tressler & Associates in August 2022, she was eager to dive into brand development. Just a couple of weeks into her new role, she began to see opportunities for Tressler to differentiate itself from other law firms in the market. In this interview, she explains what makes a brand and shares how she developed their new visual identity.
Most people think a brand is a name and logo. How do you define a brand?
Their definition isn't wrong, just incomplete. I have spent the majority of my professional career learning what makes a great brand. A brand is a name and a logo, but I believe it offers so much more. Your brand is your unique identity. And like a person, it has exterior and interior attributes and characteristics that make it identifiable to the world. Like a person, a brand has dreams and a purpose (a vision and a mission), values, a personality, a voice, a story, and an overall essence or feeling. Really, a brand is powerful. It is the foundation that informs and supports your overall business strategy. And it can be your most valuable asset for managing growth.
What did you do first to start developing the new brand?
The first thing I did was take a detailed look at our competition and the overall market. It sounds counterintuitive to spend your time analyzing everyone else, but a competitive analysis is critical to building a brand. By evaluating our competitors, I learned where we fit into the market and the unique opportunities we had to stand out.
What did you do after you finished the competitor analysis?
The next thing I did was complete an audit of our brand. I reviewed the competitor data to see how we measured up, which is always an eye opening experience. It allowed me to see where our brand was falling short and where we had opportunities to shine.
Like many service industries, the legal industry lacks uniqueness. The brand landscape looks very similar in both styling and messaging. I have always said that if everyone else is saying it, it probably isn't worth saying. Industry platitudes and buzz words become expectations, not differentiators. I knew if we were committed to being different from traditional law firms, our brand had to look and feel different from a traditional law firm. It was our time to break away from the industry brand "standards" and offer a new brand experience.
What inspired the new logo?
After comparing and analyzing for several weeks, I began to brainstorm ideas for how our brand style could be unique. I knew right away what visual elements did not fit our brand personality and what opportunities were available to stand out among our competitors.
I also spoke with Todd and Lisa about our culture and brand personality to get a sense of who we are and what a Tressler brand experience feels like. Todd shared some of his grandfather's old business papers with an added sticky note that said "brand inspo." From all of this I began to visualize what our brand style could be. Using combinations of color, texture, pattern, typography, photography, videography, illustration and tone, you can build a complete brand identity that is unique and powerful. I pulled inspo from lots of visuals and created a mood board that kick-started my design.
What did you design first?
I started with our typography. Almost all of our competitors use typography that is traditional and serious in tone. It just made sense to try to design our logo icon using lower case letters. By making the "ta" lowercase, it now feels more approachable, accessible and warm, all things we believe make up the Tressler experience. The lowercase nods to the era of typewriters (inspo from the old papers) and adds a vintage flair to the brand. I used a sans type as our accent font instead of a traditional all caps serif for our business name. Our brand now feels modernized and more relevant to today's consumer.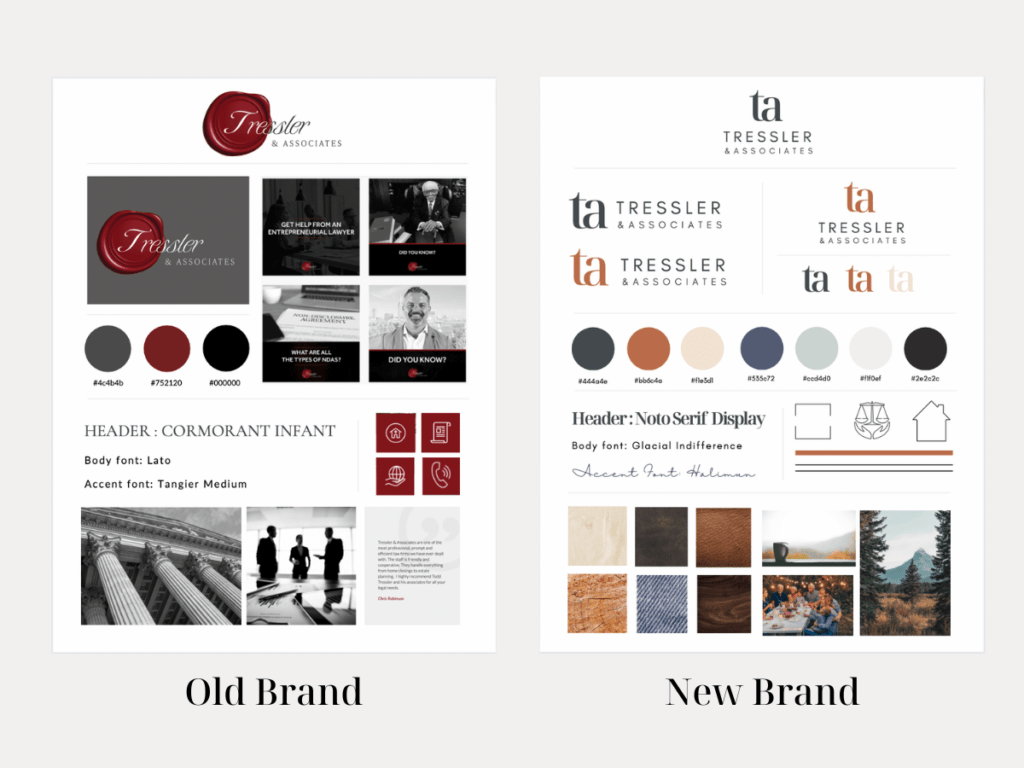 It's great to learn the logic behind the letters. What led you to choose orange as your new brand color?
This part was fun. Color psychology is actually a thing, and it is fascinating! Did you know color works at a subconscious level faster than words or images and creates a gut response? So color choices matter. For us, our previous brand colors were black, red and gray. This overall palette communicated a more bold, corporate, serious and traditional feel all things we believe do not represent who we are. It was also a common color palette used by others in our industry. By changing our colors, we could instantly add visual uniqueness and more accurately communicate our brand personality and essence to our target audience.
Here are some of the insights that influenced this decision. Orange is known as a creative, abundant, positive, passionate, secure and comforting color. The redder tones of orange can communicate strength, stamina and determination, and brown is a color that is viewed as grounding, reliable, balanced, honest, sincere and warm. From all of these attributes, we developed the Tressler orange.
What can we expect next from the Tressler brand?
We are so excited for what is to come! We just launched our new website this month. Our website partner FortyAU, helped me bring our new brand experience to life. Our website showcases our new look, but more importantly, offers a user experience unlike anyone else in our market.
Our social media will also see a refresh. These platforms will continue to be a place we tell our story and engage in meaningful ways with our audiences. Our team also plans to release a series of free digital resources to offer more education around our practice areas to include; digital downloads, blogs, webinars and a new podcast. These extra resources will all be available on our website. As a marketer, I live in creative mode. A new brand offers so many opportunities to educate, entertain and add value to our audience.
What advice do you have for business owners considering a brand refresh?
Wow, that could be a whole other interview! But I'll do my best to keep this short. Maybe we'll answer in more detail on a future podcast. (smiles and winks)
1. Define your goals.
When starting any new project having a goal in mind is always a great first step. Why are you choosing to work on your brand? Defining what you want your brand to do for your business will help you create a brand identity that delivers results. Are you a start-up preparing to launch, or are you a small business getting ready to roll out a new product or service? Are you trying to stay competitive and looking for ways to gain more market share, or do you already have a brand but feel it's time for a makeover? No matter what your reasons are, declaring your motives will enable you to set goals and stay focused as you work through the process.
2. Do the research.
Get to know your target customer and analyze your competition. I didn't mention customer analysis earlier, but they also influence and impact your identity. Because the truth is, without our customers, we have no business. A deep dive into their personality and habits can help you learn what will resonate most with them. Knowing your competition is powerful. An analysis will take some time to complete, but it is insight you can use to position your brand for lasting success in your market.
3. Be true to who you are.
Know who you are and who you want to be. Your brand is more than a hip logo or slackline. Your brand is your story, your personality, your values, your mission and much more! It is an experience, and one that should be all your own. Your brand can do so many things for your business. It should set you apart, communicate a clear message, tell a story, build credibility, connect with your audience, motivate action, create memorable experiences and loyal fans. You can start your brand refresh today by doing a simple brand audit. Ask yourself how your brand is doing? How well does it do all the things listed above? Where are there opportunities to improve, and where can YOU shine?
About Megan
As Chief Marketing Officer of Tresler & Associates, Megan leads the marketing, communication and development initiatives for the Tressler brands. She works to strengthen the company's position as a trusted leader in the legal and real estate industries.
Megan is an award winning web and graphic designer and writer with nearly two decades of business to consumer experience with large and small organizations in marketing, communications, business development, public relations, advertising and brand innovation. She's an experienced consultant, working with large and small businesses in brand development and marketing strategy and leads brand development workshops for rising and seasoned entrepreneurs. Megan is currently working to complete her first book on brand development estimated for release in late 2023.
Megan is always happy to talk shop about branding. You can follow her on Instagram @mlclimer, connect with her on LinkedIn, or reach out to her directly at megan@tresslerassociates.com.